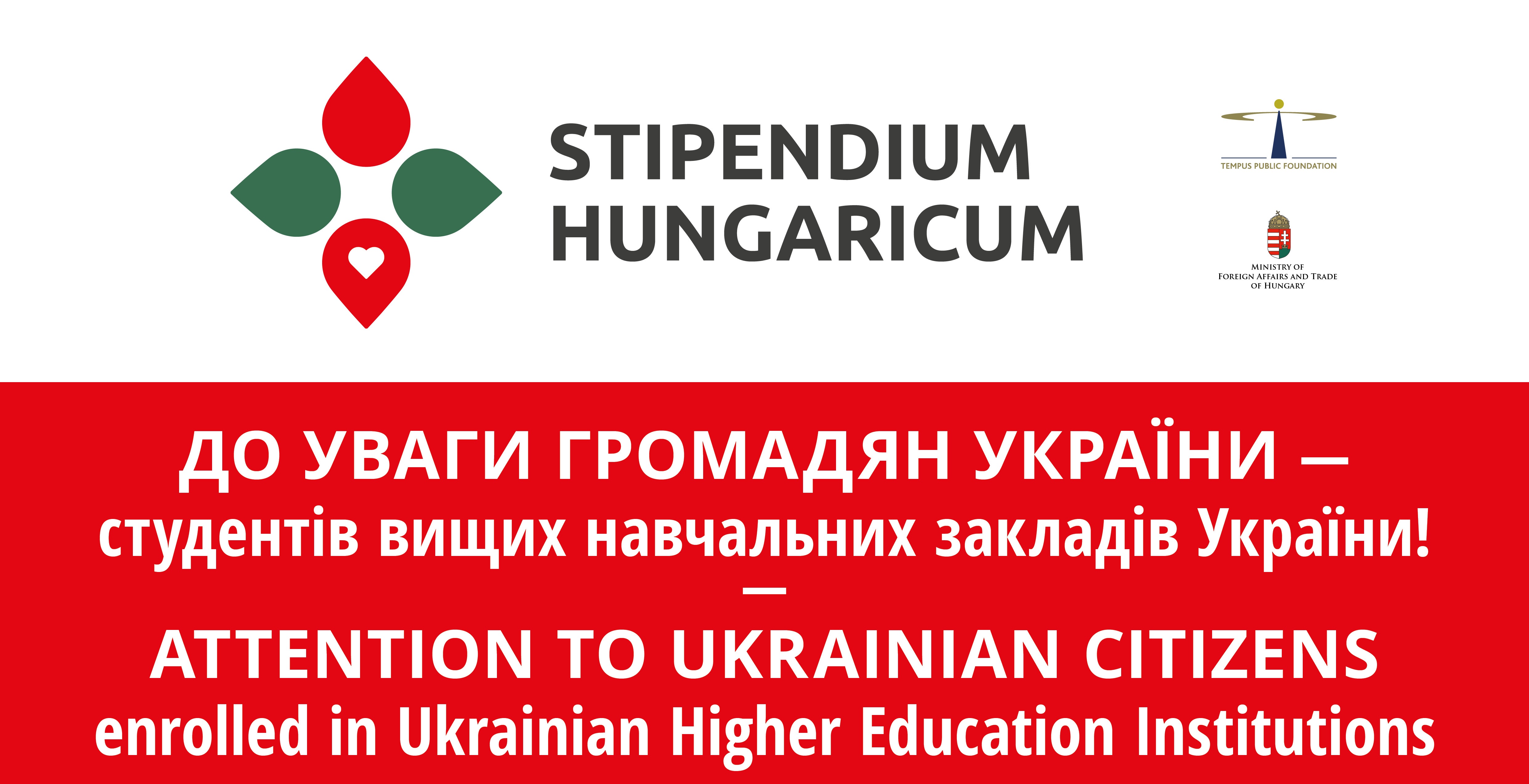 Dear Students,
On 1st April 2022, the Government of Hungary launched the Students at Risk Programme in the frame of the Stipendium Hungaricum Scholarship Programme.
The Programme provides scholarships for those who had a student status at any recognised higher education institution in Ukraine on 24 February 2022 and fled to Hungary because of the war.
Within the Students at Risk Programme, one of the Calls for Applications is available for students with Ukrainian citizenship (except those with Ukrainian-Hungarian dual citizenship). Please click here to download.
The application for the Students at Risk Programme shall be submitted through the only application system of Tempus Public Foundation at https://apply.stipendiumhungaricum.hu/ until the application deadline: 31 May 2022 23:59 CET.
Study fields, study programmes, and host universities
Applicants with Ukrainian citizenship can choose any study field and study programme offered in the Stipendium Hungaricum Scholarship Programme. You can find a list below with those Hungarian higher education institutions that are involved in the Students at Risk Programme. Following the links, you can browse the available study programmes offered by the higher education institutions.
Please, follow the next steps to access the study programmes:
Click on the links below to reach Hungarian higher education institutions in the online application system.  
Choose Ukrainian as your citizenship to see the study programmes offered for Ukrainian applicants. You can confirm your citizenship in the pop-up window right after opening the links, or by using the "Select your citizenship" button at the top-right corner of the page. Before browsing through the study programmes, always check that your citizenship is set correctly. 
You can find the available study programmes at the bottom of the page. Click on the study programmes that you are interested in to see the detailed description of the programmes.
For further details on the Students at Risk Programme and the application procedure, please visit the official website at https://stipendiumhungaricum.hu/studentsatrisk/.  
In case you have any questions related to the Students at Risk Programme, please feel free to contact us at studyinhungary@tpf.hu.
Best regards,
Tempus Public Foundation
Hungarian language programmes
https://apply.stipendiumhungaricum.hu/courses/search/id/17597808-wr3vpk
Host universities and available study fields in the Students at Risk Programme
Budapest University of Technology and Economics
Study fields: Arts, Computer Science and Information Technology, Economic Science, Engineering Science, Natural Science, Social Science
https://apply.stipendiumhungaricum.hu/courses/search/id/17584121-27rnfj
Budapest Business School
Study fields: Economic Science, Social Science
https://apply.stipendiumhungaricum.hu/courses/search/id/17584130-ig8n2o  
Corvinus University of Budapest
Study fields: Computer Science and Information Technology, Economic Science, Engineering Science, Social Science
https://apply.stipendiumhungaricum.hu/courses/search/id/17584132-2ijpj4
Eötvös József College
Study fields: Economic Science
https://apply.stipendiumhungaricum.hu/courses/search/id/17584136-yger67
Eötvös Loránd University
Study fields: Arts and Humanities, Computer Science and Information Technology, Engineering Science, Natural Science, Social Science, Teacher Training
https://apply.stipendiumhungaricum.hu/courses/search/id/17584139-doueha
Eszterházy Károly Catholic University
Study fields: Agricultural Science, Art Education, Computer Science and Information Technology, Economic Science, Natural Science, Teacher Training
https://apply.stipendiumhungaricum.hu/courses/search/id/17584143-nupgo5
Hungarian University of Agriculture and Life Sciences (MATE)
Study fields: Agricultural Science, Art Education, Arts, Economic Science, Engineering Science, Natural Science, Social Science
https://apply.stipendiumhungaricum.hu/courses/search/id/17584146-3seob5
Hungarian University of Fine Arts
Study fields: Arts
https://apply.stipendiumhungaricum.hu/courses/search/id/17584149-a964of
Hungarian University of Sports Science
Study fields: Medical and Health Science, Sport Science
https://apply.stipendiumhungaricum.hu/courses/search/id/17584152-0sz632
John von Neumann University
Study fields: Computer Science and Information Technology, Natural Science
https://apply.stipendiumhungaricum.hu/courses/search/id/17584156-zoj4c8
John Wesley Theological College
Study fields: Natural Science
https://apply.stipendiumhungaricum.hu/courses/search/id/17584163-18bgpx
Károly Gáspár University of the Reformed Church in Hungary
Study fields: Arts and Humanities, Legal Science, Natural Science, Religion and Theology, Social Science
https://apply.stipendiumhungaricum.hu/courses/search/id/17584168-rmmxli
Liszt Ferenc Academy of Music
Study fields: Arts
https://apply.stipendiumhungaricum.hu/courses/search/id/17584174-accek7
Óbuda University
Study fields: Agricultural Science, Arts, Computer Science and Information Technology, Economic Science, Engineering Science, Natural Science
https://apply.stipendiumhungaricum.hu/courses/search/id/17584178-ch43sc
Pázmány Péter Catholic University
Study fields: Arts and Humanities, Computer Science and Information Technology, Engineering Science, Social Science
https://apply.stipendiumhungaricum.hu/courses/search/id/17584181-lz3mfs
Semmelweis University
Study fields: Health Science, Medical and Health Science, Social Science, Teacher Training
https://apply.stipendiumhungaricum.hu/courses/search/id/17584186-mdplpj
Széchenyi István University
Study fields: Agricultural Science, Arts, Computer Science and Information Technology, Economic Science, Engineering Science, Social Science
https://apply.stipendiumhungaricum.hu/courses/search/id/17584188-vz7xjx
University of Debrecen
Study fields: Agricultural Science, Arts and Humanities, Computer Science and Information Technology, Economic Science, Engineering Science, Health Science, Legal Science, Medical and Health Science, Natural Science, Social Science
https://apply.stipendiumhungaricum.hu/courses/search/id/17584191-v9phu6
University of Dunaújváros
Study fields: Computer Science and Information Technology, Economic Science, Engineering Science, Natural Science, Teacher Training
https://apply.stipendiumhungaricum.hu/courses/search/id/17584192-3t83re
University of Miskolc
Study fields: Arts, Arts and Humanities, Computer Science and Information Technology, Economic Science, Engineering Science, Legal Science, Natural Science, Social Science
https://apply.stipendiumhungaricum.hu/courses/search/id/17584194-idel6i
University of Nyíregyháza
Study fields: Agricultural Science, Art Education, Arts and Humanities, Economic Science, Engineering Science, Natural Science
https://apply.stipendiumhungaricum.hu/courses/search/id/17584204-qpaf3j
University of Pannonia
Study fields: Arts and Humanities, Computer Science and Information Technology, Economic Science, Engineering Science, Natural Science, Social Science
https://apply.stipendiumhungaricum.hu/courses/search/id/17584212-vbweo1
University of Pécs
Study fields: Arts, Arts and Humanities, Computer Science and Information Technology, Economic Science, Engineering Science, Health Science, Medical and Health Science, Natural Science, Social Science, Social Sciences, Sport Science, Teacher Training
https://apply.stipendiumhungaricum.hu/courses/search/id/17584218-357klv
University of Public Service
Study fields: Engineering Science, Political Science and Public Governance, Social Science
https://apply.stipendiumhungaricum.hu/courses/search/id/17584221-a0o4wk
University of Sopron
Study fields: Agricultural Science, Economic Science, Engineering Science, Social Science
https://apply.stipendiumhungaricum.hu/courses/search/id/17584223-v9a9cz
University of Szeged
Study fields: Agricultural Science, Arts, Arts and Humanities, Computer Science and Information Technology, Economic Science, Engineering Science, Health Science, Medical and Health Science, Natural Science, Social Science
https://apply.stipendiumhungaricum.hu/courses/search/id/17584226-h7emyw
University of Veterinary Medicine Budapest
Study fields: Agricultural Science
https://apply.stipendiumhungaricum.hu/courses/search/id/17584229-q2nimz